[The is first part of the a two part series]
In a massive, coordinated effort, more than 100 agents from the Bureau of Immigration and Customs Enforcement (ICE) descended on AgriProcessors Inc., the largest kosher meatpacking plant in the country, in Postville, Iowa. The raid is considered to be one of the largest government dragnets against immigrant workers, in Iowa's history, according to Matt Dummermuth, US attorney for the Northern District. In a press release, Dummermuth also said the raid, which 16 local, state and federal agencies, had been planned for months.
"This is not the first time this office has been a part of a criminal worksite enforcement operation," said Dummermuth. "However, this is the largest operation of its type ever in Iowa. Agents and officers from federal, state, and local agencies are involved today. The coordination and logistical planning efforts have been going on for months."
Authorities said that 390 people had been arrested. Most of those arrested were either from Mexico or Guatemala, while some others were immigrants from Israel and Ukraine. Federal officials are charging for using fraudulent Social Security numbers or with the civil offense of using fraudulent Green Cards and other government documents.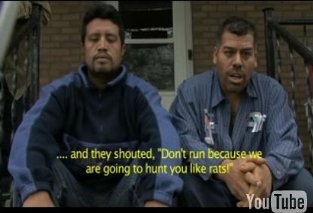 Recounting of the terrifying event that took place at AgriProcessors, Humberto Nava told Michael Barnes of the Cedar Rapids Gazette, federal agents were not shy at subjecting AgriProcessors' workers to a barrage of racial epithets. As the raid began, workers throughout the plant tried to hide or run away. Nava overheard an ICE agent shouting, "Don't run because we are going to hunt you like rats!" In addition to using racial epithets and expletives, other federal agents called them "burros," a crude word in Spanish for ignorant.
Many were forced to call their family to come to the slaughterhouse with documents, if there were to be released from ICE custody. Violeta Aleman, a naturalized citizen, said ICE had herded the workers like cattle into the cafeteria and ordered them to form two lines. "One for US citizens and one for legal residents," while the undocumented immigrants were to remain seated, she told The Gazette.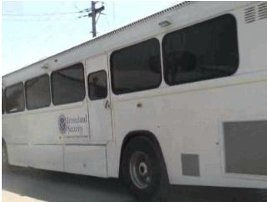 In an act that would make IA Congressman Steve King (R-5) proud, ICE rounded up the detained immigrants like livestock, where they were frisked, shackled at the waist and ankles and herded onto Homeland Security buses with covered windows. They then bused to the National Cattle Congress fairgrounds in Waterloo, IA for "processing" As a result of the large number of immigrants detained; ICE used the fairgrounds as a makeshift processing and detention center.
According to The Des Moines Register, ICE arrested 314 men and 76 women. The detainees included 290 who claimed to be Guatemalans, 93 Mexicans, 3 Israelis and 4 Ukrainians. Among the detainees, 12 were juveniles, which six were later released by ICE. During the night, ICE separated by gender. The women were taken to the Hardin County Jail in Eldora for the night, while, the men "slept on cots" in a makeshift detention camp in McElroy Auditorium at the fairgrounds.
The Waterloo-Cedar Falls Courier reported that ICE released 62 people based on "humanitarian grounds" and 21 under ICE supervision. Humanitarian for ICE means the mothers should start making arrangements for the care of their children while they are in the process of being deported. It is really hard to believe ICE is suddenly concerned about splitting families, since they have never shown that much compassion in these situations. If this was the case then why did ICE deport Elvira Arellano? Nevertheless, buried within the article, of the 62 ICE released on humanitarian grounds, 18 were juveniles, ranging from 13 to 17. They were released either to an adult or to the Office of Refugee Resettlement.
It was unclear, however, whether ICE will strike again. The search warrants accounted for the arrest of 697 individuals; however, ICE arrested only 390. Subtract the 56 from the 390; there are 334 in the "processed" of being deported. On Tuesday, May 13, ICE said they have been issued more than 300 arrest warrants. The question that has not been answered, what methods ICE will use to execute these warrants.
Although the plant reopened on May 13, the raids had a devastating effect on the town of Postville. According to the Cedar Rapids Gazette, Postville schools Superintendent Dave Strudthoff said 90 percent of the Latinos at Postville High School did not attend class the next day and one-third of the Latino children from kindergarten through eighth grade were not in class.
A lawsuit filed on behalf of the workers on Thursday, accusing the government of violating their constitutional rights through arbitrary and indefinite detention.
Lead Up to the Raids
The raid came after a six-month investigation conducted by ICE along with more than a dozen federal agencies, including the Federal Bureau of Investigation, the Drug Enforcement Administration, the Internal Revenue Service, and the departments of labor and agriculture. In the affidavit filed as part of the 60-page application for a search warrant (pdf file), additional details by federal agents reveal a laundry list of allegations against the company's owners and supervisors. According to the application, company owners and supervisors physically and verbally abused and exploited workers; knowingly hired juveniles and workers without legal documentation; altered work records; paid some off the books; and paid them $5 and $6 an hour, below Iowa's $7.25 minimum wage.
The affidavit also cited other unnamed sources. One of the sources, Source #7, alleged that a "local government official" known as "Mr. Boss" was responsible for issuing the undocumented workers their paychecks. It was later revealed that "Mr. Boss" also owned one of apartment complexes where many of AgriProcessors' workers lived. After complaining about the Source's rent suddenly increasing, they were told by other local Hispanics "it was a common practice for the landlords who rented to tenants in that area to frequently increase rents." According to an affidavit, ICE Special Agents discovered that an employee for the local elementary school was another AgriProcessors' point person for paying undocumented workers under the table
In February, Source #7 told ICE agents he or she observed several "oral altercations" between a "Rabbi" and the employees. In one particular incident, a "Rabbi" had called the "employees derogatory names and [threw] meat at [the] employees." In another incident, a Jewish floor supervisor duct-taped the eyes of alleged "undocumented" Guatemalan worker shut and hit the Guatemalan with a meat hook, apparently not causing serious injuries. The Guatemalan did not want to report the incident because "it would not do any good and could jeopardize his job." The company fired illegal immigrants on occasion with no explanation.
According to a report by the Jewish Telegraph Agency, the search warrant states ICE agents interviewed a former plant supervisor, Source #1, who told them that they had found a "methamphetamine lab" on AgriProcessors premises. However, news about the drug lab allegation remains sketchy and usually buried by the mainstream media, except on Jewish news sources. When it is mention, the allegation is not reported correctly; it is reported that "some employees" were running the lab – giving the impression that it was the undocumented immigrants were operating the meth lab.
The affidavit only states that former plant supervisor told ICE that they had found a "methamphetamine lab" on the premises. After the supervisor "partially destroyed the lab," the supervisor confronted a higher-level manager about the drugs and got into an altercation. The former supervisor believes this was the reason the Source was terminated from their job.
Source #1 stated there was an incident at Agriprocessors where Source #1 discovered active drug (methamphetamine) production in the the plant. Source #1 stated the methamphetamine lab was partially destroyed by Source #1. This led to a physical confrontation with Source #1's immediate supervisor. Source #1 believes the incident led to Source #1's termination. Source #1 stated there were incidents of weapons being carried in Agriprocessors. However, the Source was not sure if they were being traded for drugs or being sold.
In a recent interview with the Iowa City Press-Citizen, Stephen Bloom, a University of Iowa journalism professor, gave a historic perspective on the recent immigration raid in Postville. In 2000, Bloom wrote a book, "Postville: A Clash of Cultures in Heartland America," on the clash of cultures in Postville as Agriprocessors' Lubavitch Jewish leaders gained influence in the mostly Lutheran town. In the interview, Bloom stated that as far back in the "late 1990s," he discovered that "guns [were] being bought and sold on the kill floor" at AgriProcessors and that "drugs were not uncommon, either."
Most disturbing, three undocumented workers were arrested in 2006 concerning an investigation of the production of a "potential explosive device" found in a vehicle registered to an AgriProcessors supervisor. When officers attempted to question the three suspects about the explosive device, the supervisor instructed the employees to provide the officer with a false name of the person who "sold them the car."
It is unclear if AgriProcessors is being investigated for operating a meth lab or any of the illegal activity that occurred in the plant. The question was the mentioning of the meth lab explosive devices just a ploy so ICE could conduct a raid. Or was the raid a diversion tactic to something bigger?
AgriProcessors, a Culture of Corruption
So far, no officials at AgriProcessors have been charged. Like other well publicized recent immigration raids in the US, as more become known about the incident, the identification of the plant's owners become progressively less certain. And therein lies a tale.
AgriProcessors is a family owned and operated plant, opened in Postville in 1987, when Aaron Rubashkin, a Lubavitcher Hasidic butcher from Brooklyn, bought the former HyGrade meat processing plant in Postville. Aaron is considered to be an innovator in the glatt-kosher meat processing industry. It is now run by his sons Sholom and Heshy Rubashkin. It produces kosher and non-kosher beef, veal, lamb, turkey, and chicken products under brands such as Iowa Best Beef, Aaron's Best and Rubashkin's.
This is not the first time AgriProcessors has gotten in trouble the government. The company has a long history of citations and fines for violating federal, state and local regulations related to labor, food safety and the environmental.
Environmental Degradation
In 2004, the Justice Department and the Environmental Protection Agency (EPA) joined a civil suit against AgriProcessors alleging it had violated the Clean Water Act by exceeding its wastewater limits into the city's water treatment system. By exceeding its wastewater limits, AgriProcessors forcing the city to violate its wastewater treatment permit by discharging more than allowable pollutants from its lagoon treatment system into the Yellow River. In 2006, AgriProcessors agreed to pay over $600,000 to settle a complaint by the EPA. Before that, in 2001, Postville filed a lawsuit against AgriProcessors to recover $2 million that the plant owed in unpaid wastewater-related fines, penalties, and user fees.
Food Safety
In the same year, the People for the Ethical Treatment of Animals (PETA) made secret videotapes documenting the company's slaughtering practices. In the video, cattle, chickens, and turkeys are shown writhing and still being fully conscious while having their throats cut and being dismembered. Excerpts from the investigators notes:
Many cows were still alive and conscious when they came out of the tube and were slammed onto the floor. Their heads often hit the concrete with a sickening crack. I watched as one cow landed on his feet and started scrambling around with a shocked look on his face. The workers simply jumped behind their barricade and waited for him to collapse.

Some birds fell after being placed into buckets—these birds flopped around on the ground violently, and once stopped, they were thrown into the garbage.

The first time I saw a cow stagger to his feet and walk around with his trachea dangling outside of his body, I thought to myself, this can't be happening—but after several days I knew better
The videos prompted an investigation by the US Department of Agriculture (USDA), issued a "letter of warning" to the plant for violating the provisions of the Humane Slaughter Act. The USDA did not pursue criminal charges. The firestorm from the video also led to three US Department of Agriculture inspectors being reprimanded for failing to report food safety hazards, accepting gifts from plant workers and spending time playing computer games and sleeping on the job.
Between January 1, 2006, and January 24, 2007, USDA's Food Safety and Inspection Service issued more than 250 noncompliance requests to AgriProcessors. Inspectors found that about half the chickens being processed were contaminated with feces and bile. After making note of the violation, inspectors continue to notice that the chickens were still contaminated with feces. Inspectors noticed that two pallets of beef that had "a rancid smell and [were] slimy to the touch" and that hydraulic oil from an overhead motor was dripping on processed chickens.
In 2007, PETA documented that workers at AgriProcessors' smaller plant – Local Pride in Nebraska – were mutilating conscious cows' ears, jabbing hooks into their necks, and allowing the animals to remain conscious for many minutes after cutting their throats.
In the new video, the cattle appear be moving their eyes, necks and tongues long after their throats have been slit. In one case, PETA says the movement went on for two minutes. In testimony gathered by PETA, a number of veterinarians hold that cows are still conscious until their eyes roll back. Lewin said that "after [kosher slaughter,] animals may move, but when an animal moves that does not mean it is conscious."
Since going public, PETA has received countless letters of support from concerned people calling for quick action to stop the cruelty at AgriProcessors.
Worker Safety
To meet production goals, the processing lines in this plant move exceedingly fast. Workers are under extreme pressure to keep up, and some have reported being verbally abused if they fall behind. Others try to keep up to the best of their abilities, but very few work in this plant for more than a couple of months without suffering an injury of one type or another.
Between April 2001 to February 2006, Occupational Health and Safety Administration (OSHA) records show no less than 20 violations at AgriProcessors, according to testimony given before the Senate Subcommittee on Employment and Workplace Safety. Of these, twelve were identified by OSHA as serious.
An examination of the plant's OSHA workplace injury logs, it reveals that there have been over five amputations from 2001-2005, two of them occurring in 2005. The logs also reveal other serious injuries have occurred at the plant, such as broken bones, eye injuries and hearing loss.
In another video released by PETA, the video shows the human resources director at AgriProcessors denying health coverage for work-related medical care to a plant worker. In an interview with The Forward, a national Jewish weekly newspaper, PETA investigator said that AgriProcessors' supervisors showed little concern and were reluctant to allow their employee's access to the company's doctor when their workers were injured or sick. The article also asserts that AgriProcessors' heavily Latino work force were inadequate given safety training.
A month after The Forward piece ran, that described the unsafe working conditions and worker mistreatment at AgriProcessors, two Conservative Jewish organizations, the United Synagogue of Conservative Judaism and the Rabbinical Assembly, created a task force to investigate the abuses.

…the United Synagogue of Conservative Judaism and the Rabbinical Assembly appointed a joint commission of inquiry to determine if the charges were accurate, to learn about working conditions at the plant, and to establish next steps, if needed, to help ensure worker dignity, safety and rights, within the context of Jewish law, values and tradition.
In December 2006, the Commission issued a report concluding "that there [were] significant issues of concern at the plant, including issues of health and safety." The Commission found:
Inadequate safety procedures when shutting machines for cleaning;
Inadequate or nonexistent worker safety training;
Lack of safety committee that includes both management and labor, to develop training and monitor procedures;
Concern about unsafe chemical use;
Unclean and unsafe lunchroom conditions; and
Inadequate access to safety equipment and number of operable eyewash stations.
According to the Commission's report, AgriProcessors had agreed to work with the Commission to address health and safety issues. However, in a May 2007 article, The Forward reported, "workers at the plant say that nothing has changed."
Just recently the Iowa Division of Labor Services charged AgriProcessors with 39 health and safety violations with proposed penalties of $182,000. Health inspectors identified thirteen serious health violations surrounding "hazardous chemicals and emergency response issues including a lack of proper labeling on hazardous chemicals, lack of an emergency alarm that can be heard by all employees, failure to develop an emergency response plan and improper programs for both respirator use and bloodborne pathogen issues."
From 2000 to 2008, numerous reports from the media and bloggers have revealed numerous cases of worker mistreatment including lack of training, job favoritism, and unsafe conditions.
Next: AgriProcessors' political connections
x-posted on The Sanctuary