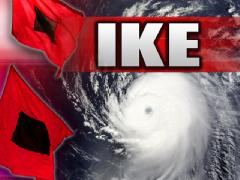 As Hurricane Ike makes its way towards Texas, the Associated Press reports, emergency officials are getting ready to evacuate 1 million people from the Rio Grande Valley. However, they are running into problems convincing many immigrants to leave because they were afraid of being arrested if they board the buses.
They also fear that Immigration and Customs Enforcement (ICE) and Border Patrol will be checking for immigration status at checkpoints along the way, even though ICE has already promised that Border Patrol and Customs and Border Protection will not people on their status. The truth is, with the increase in immigration crackdowns, many of them feel ICE probably had their fingers crossed when they made that statement.
Immigrants have reason to be skeptical of ICE's promises. It was evident Michael Chertoff, Director of Homeland Security Secretary, followed through on his threat of separating the undocumented from the general population when Hurricane Dolly hit South Texas. It is also a little known fact that the Rio Grande Valley is the only area in the US where the Border Patrol is authorized to check the immigration status during hurricane evacuations.
This is not the first undocumented immigrants have opted to stay behind. Just as mandatory evacuations began across the Gulf Coast, immigrants were also refusing to leave. "Latinos are fearful that by being taken to shelters they will be turned over to immigration officials," Lucas Diaz told the Agence France-Presse. "They don't trust. Often people along the way, like shelter workers, take to being ICE agents and turn people in."
Many advocates complained they were not given enough time to prepare immigrant communities once the DHS assured for safe passage of immigrant workers. It was also reported that day laborers were complaining they were put on hold for more than 30 minutes before getting connected with a Spanish-speaking operator. Additionally, many undocumented immigrants became wary when they realized they would be asked to register at evacuation points for tracking purposes.
Today, state prison officials have already ordered mandatory evacuation for the prisons in South Texas, according to the Houston Chronicle. However, Chertoff, nor Julie Myers, Homeland Security Assistant Secretary for ICE, have yet to announce if Raymondville detainees will be evacuated. One has to wonder if last weeks quick actions in Louisiana by Chertoff was nothing more than Republican political posturing.
In an entry in the DHS' Leadership Journal (DHS' blog) Chertoff wrote:
"FEMA has pre-positioned assets and personnel in strategic locations and is poised to move in as soon as it's safe to assist with response and recovery operations. Other DHS personnel including ICE, CBP, TSA and Coast Guard teams have been deployed to assist with evacuations and are standing by to begin search and rescue operations as needed. Additional federal partners, including the Department of Defense and U.S. Army Corps of Engineers, have also deployed assets and personnel to the region and are preparing for response activities."
With forecasts predicting that Ike will gain even more power in the Gulf of Mexico's warm waters and becoming a Category 4 before making landfall this weekend, the Rio Grande Valley is still recovering from Hurricane Dolly. As Dolly left the area underwater, damaging hundreds of homes but killing no one, the window-less Kevlar tents that make up the detention center in Raymondville, TX did sustain damage, which proved that the detention center is unable to withstand Hurricane-like conditions.
Last week, the Brownsville Herald reported that Dolly had damaged the doomed roofs of Management and Training Corporation's "Tent City" detention detention center in Raymondville, TX. According to the article:
Rain from the Category 2 hurricane drenched the domes while the storm's 100-mph winds shot debris into some walls, said Bill Bryan, a consultant who oversaw development of the $111 million project that includes 10 domes and a 1,000-bed building.

The damage has prevented officials from returning detainees to the camp, so the inmate count has plunged from about 1,943 before the hurricane to a low of 685, county records show.
…
Dolly damaged nine of the detention center's 10 domes, Bryan said.

The hurricane's rains leaked into the domes through air conditioning vents, he said.

"We had some water inside the facility," Bryan said. "That's probably the focus of concerns."
According to Nina Pruneda, spokeswoman for ICE, the detention center's inmate count stood at 897.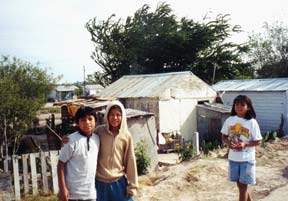 The valley's residents are among those least equipped to handle hurricane flooding. It is one of the poorest parts of the US, where approximately 400,000 Texans live in colonias. Along muddy roads invisible from the highway, some families crowd into battered trailers patched with plywood in communities that still lack of sewer systems and paved streets where ordinary rainstorm can fill yards with disease-ridden sewage from flooded septic tanks.
Four major storms, two of them hurricanes, have already have struck the Caribbean, killing more than 600 people and leaving hundreds of thousands desperate for food, clean water and shelter in the impoverished country of Haiti. Prior to entering the Gulf of Mexico, Ike has killed at least 60 people in the Caribbean and wrecked havoc in Cuba. Across Haiti, 800,000 people — almost half of them children — were in urgent need of humanitarian aid, according to a spokeswoman for the UN Office for the Co-ordination of Humanitarian Affairs in Geneva.
I am writing this because of the fury and dread I feel this hurricane might bring to my state. I have been blogging about the immigration issue ever since Rep Jim Sensenbrenner tired to fast track his bill through Congress. Since then, I have seen America's humanity slowly transform this country into a haven for bigotry, injustice, greed, discrimination, jingoism, violence, hypocrisy, intolerance and fanatical Puritanism deceptively cloaked in the garments of conservatism.
The current situation is forcing people to take drastic measures to either save themselves or their family, such as Elvira Arellano and Flor Crisóstomo choosing to take sanctuary in a church. ICE's "round 'em up" tactics has gone too far. Not only are they splitting families and tearing communities apart, they are now forcing people to choose between possible drowning and imprisonment and deportation.
One can only image the devastation Ike will bring to these communities.