Latest Update: I am ok! It was a rough ride last night, but other than that, I am ok. I like to thank CenterPoint Energy for working as quickly as they can to restore our power. I am one of the lucky ones, considering over 2 million households lost power.
Power has finally gone out! Repeat my power has finally gone out! I am ok. I am about to post this last message because I have cable internet and it seems I am still able to have internet service. Thank you Comcast.
——
Note: electricity is going out quickly throughout the city. In fact, part of the apartment complex where I live have lost power, I am ok, however, I am not sure how much time mother nature will give me to blog. For those of you who are concern for my safety, you noticed I am not updating this blog, it is most likely I lost power. If and when power is restored I will let you know I am ok and I have told some people I will call to let them know if I am ok.
Beginning a new tread. It is time to be scared, very scared. Ike has decided to stall before it decides to have fun with us. We are now experiencing tropical storm winds. Here is another short clip I took, an hour after I took the first one. You can tell, Ike is letting us know it is out there.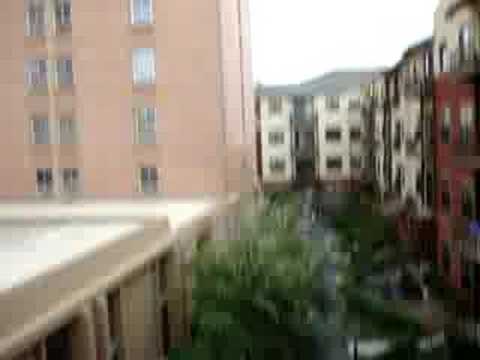 Harris County Judge Ed Emmett and Mayor Bill White enacted a curfew in the mandatory evacuation zone – 77058, 77059, 77062, 77520, 77546, 77571, 77586, 77598, and 77507. These areas were evacuated earlier because of high water expected as a result of Hurricane Ike. Curfew is in place for the following days and times: 7 p.m. – 6 a.m. Friday night – Saturday morning and Saturday night – Sunday morning.
I was just heard there are reports that there are 18 people trapped on the roofs in Galveston.
Unfortunately, I do have have sad news. The first victim of Ike has been reported. He is a ten year old boy who could not get out of the way of a falling tree. The boy's older brother tried to pull him away, but the tree hit him in the head. The boy was taken to Tomball Regional Hospital, where he died.
More photos – The first two pictures is located is Houston's Manchester area which is prone to flooding because it very close to the Houston Ship Channel.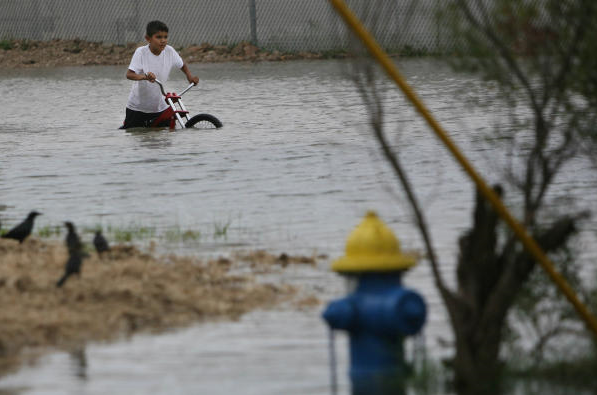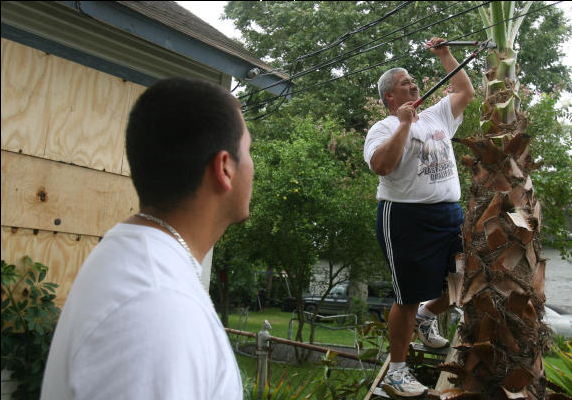 This is a picture is taken from Seabrook, TX, which is very close to the coast.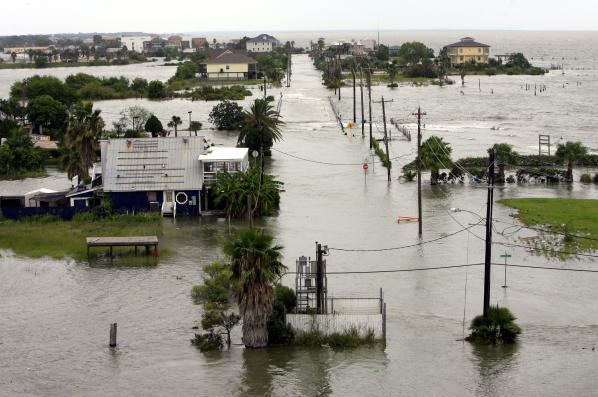 part of my apartment complex lost power, when I called my father to let him know, she saw three transformers blow right in front of his eyes. Centerpoint is reporting that 105,000 are without electricity.
My friend RoB from Houston IndyMedia took some photos from the Montrose area which is not far from where I live and from around the Houston area.
He and his girlfriend are "hunkering down" in the Bellaire to wait out Hurricane Ike. I just got found out from my father the whole Bellaire area just lost power.
Just heard that Galveston is now up in flames. The first one started at a boat and yacht repair warehouse has been destroyed by flames because the streets were too flooded by Hurricane Ike for fire trucks to reach it. There are now house fires throughout Galveston, the fire is jumping from house to house and there is nothing the fire fighters can do.
It is 8:42 PM, CenterPoint Energy is reporting 150,000 customers are now without electricity this evening.
Hurricane Ike, a colossal storm nearly as big as Texas itself. This is the image taken from NOAA via Getty Images.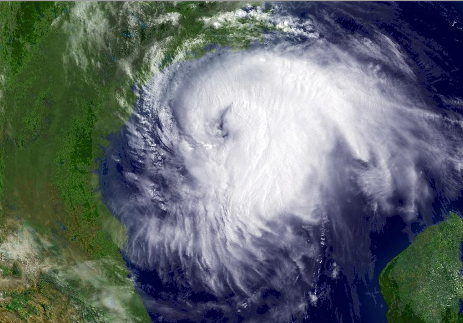 Hurricane Ike is about 600 miles across, as big as Texas itself. Towering waves have been crashing over the 17-foot-high Galveston seawall, and floodwaters are rising in low-lying areas.
As of 8 PM Ike is about 70 miles southeast of Galveston, moving at 13 miles-an-hour. It's close to a Category 3 storm with winds of 110 miles-per-hour, and is expected to strengthen by the time the eye hits land.
As of 9 PM, CenterPoint Energy is reporting about 300,000 customers are now without electricity this evening.
Levees breached, homes flood as Ike passes coastal Cameron Parish, Louisiana. About 1,000 homes and business flooded and is expected to rise.
It is 10:30 – this is the calm before the storm.
The places that are flooding in Houston –
Southeast Harris County flooding only related to storm surge flooding. No rain fall flooding reported yet.
Flooding in progress in and around Clear Lake
Near bank full conditions along Clear Creek east of Bay Area Blvd
Near bank full conditions along Greens Bayou south of Interstate 10
Little Vince Bayou in Pasadena is one third full at the lower end
Brays Bayou at Lawndale and eastward is half full
Flooding along Houston Ship Channel, San Jacinto River and San Jacinto River Tributaries
Second victim, a 19-year-old Corpus Christi man drowned from the storm surge.
I am going to try to get some z's before the worse happens. You can tell Ike is making sure we know it is coming. If I still have power, I will let you know if everything is ok and what is happening.
New post on Ike's aftermath.