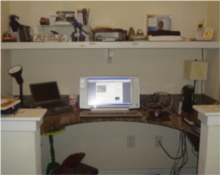 Believe it or not, I have finally made it home. After being after from my place for two weeks, it is great to be back. In fact, I was hoping I would have been done with the last part to "The Long Road Back Home From Denver." Such is not the case. I am back in hurricane center monitoring the developments of the next hurricane that is barreling down my way, hurricane Ike.
And just my luck too …. maybe. As I mentioned in my last post, by the time I arrived in Austin, I had decided not to go to Houston because nearly 1 million Gulf Coast residents were fleeing the path of Hurricane Gustava. As a result, all major interstates leading into Houston from Louisiana was already bumper-to-bumper. So it was easier to avoid it all and just go back home the next weekend. Although New Orleans dodged the bullet as Gustav weakened and drifted west. It seems the press were more interested in covering the three ring circus called the Republican National Convention and totally made it seem everything ran very smoothly down in New Orleans.
It is funny, while I was in Denver, my parents kept me abreast of the approaching storm. I had heard rumors here and there that the Republicans were a bit worried if "the mother of all storms" did hit New Orleans. And how can you blame them.
It is bad enough Senator John McCain had to sell his soul to the Bush family's to get their blessing and endorsement after enduring an onslaught of "subterranean assaults on [his] reputation" by the Bush-Rove cabal.
It looks like Houston is under the gun again. On Monday, forecasters predicted that the warm waters in the Gulf of Mexico could transform Hurricane Ike into a major hurricane heading towards Houston. The five-day forecast from the National Hurricane Center predicts that Hurricane Ike would hit Houston on Saturday morning, as a Category 3 storm, with winds of 111 miles to 130 miles an hour.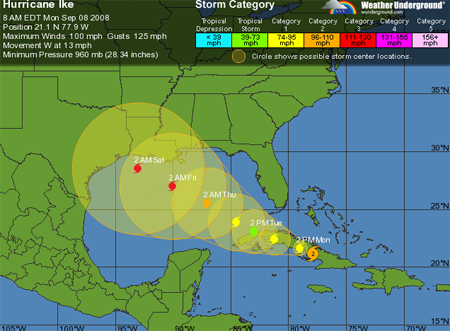 To get an idea what I was about to face, when Ike hit Cuba, some 800,000 people have been evacuated the Turks and Caicos islands. Ike killed 61 people in Haiti and reportedly damaged 80% of homes on the main Turks and Caicos islands.
Haiti, the poorest country in the Western hemisphere, endured the onslaught of four tropical storms in a three week period. Heavy rains and flooding sparked by the outer bands of the storm killed at least 61 people in Cabaret, to the north of the capital Port-au-Prince. Source: The New York Times
Before I went to bed, it looked it looked like we dodged another bullet. However, we could have gotten the dirty side of Ike.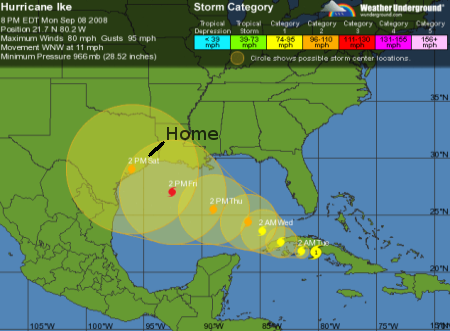 As of this morning, the National Hurricane Center said Ike will still go towards the warm waters late this afternoon or this evening and strengthen but will suddenly turn South and hit South Texas.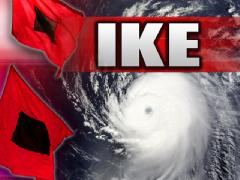 Update: Officials in Brazoria County, Texas, have issued some evacuation orders as Hurricane Ike moves toward the Gulf Coast. A mandatory evacuation has been ordered for 10 a.m. Wednesday for residents just south of Houston. Emergency officials also are getting ready to evacuate 1 million people from the Rio Grande Valley. They've lined up nearly 1,000 buses in case they're needed.
ICE states they won't be checking for people's immigration status at evacuation loading zones or at the checkpoints. However, I wonder if they had their fingers crossed when they made they that statement.
In May, Director of Homeland Security Michael Chertoff' said:
"In the event of an emergency, and the need for an evacuation, priority No. 1 by a country mile is the safe evacuation of people who are leaving the danger zone. Instructions to the Border Patrol and Customs and Border Protection are clear. They are to do nothing to impede a safe and speedy evacuation of a danger zone."
He obviously followed through on his threat of separating the undocumented from the general population in late July when Hurricane Dolly hit South Texas. Prior to Dolly's arrival, no mandatory evacuation was ordered, which allowed the Border Patrol to keep its checkpoints open.
Galveston officials are expected to urge a voluntary evacuation for those living in the low-lying western end of the island, where high tides, rain and large waves could cause serious flooding.
Update 2: Mandatory evacuations have been issued in the following Harris County ZIP codes beginning at noon Thursday: 77058, 77059, 77062, 77520, 77546, 77571, 77586, and 77598
Residents with special needs in the ZIP codes under a mandatory evacuation who have not registered with the county for assistance can get help by calling 311.
Mandatory evacuations have been ordered in the following areas: Brazoria County – all unincorporated areas, beginning at 8 a.m. Thursday; Chambers County – low-lying areas, beginning 10 a.m. Thursday; Matagorda County – all areas south of Highway 35 except Bay City and Van Vleck; Ashby-Buckeye; Bacliff – beginning at 7 a.m. Thursday; Blessing; Bolivar Peninsula – beginning at 7 a.m. Thursday; Cedar Lane; Chinquapin; Collegeport; El Maton; Freddiesville – beginning at 7 a.m. Thursday; Galveston – West End only, beginning at 7 a.m. Thursday; Jamaica Beach – beginning at 7 a.m. Thursday; Matagorda; Omega Bay – beginning at 7 a.m. Thursday; Palacious; San Leon – beginning at 7 a.m. Thursday; Sargent; Tidewater Oaks; Tres Palacious Oaks; and Wadsworth
Voluntary evacuations have been issued in the following areas: # Matagorda County – north of Highway 35; Jackson County; Bay City; Bayou Vista; Baytown; Clear Lake Shores; Dickinson; Galveston Island; Kemah; La Marque; Manvel; Tiki Island; and Van Vleck
Live coverage and information can be found on this post.