Power is back on – I am alive and kicking. It will take a little more than a Cat 2 to keep XP down and out. I am one of the lucky ones, unlike the those who lived on the coast. From the Houston Chronicle:
I will be back on shortly, I will plan to take a short nap, since I didn't really sleep last night.
St. Luke's Episcopal Hospital requests that all Recovery Team employees come to the hospital as soon as safely possible to help relieve those who have ridden out Hurricane Ike. All Recovery Team employees must report to the hospital by 7 a.m. Sunday. Employees need to call 832-355-2647 for details.
Port of Houston Authority reports minor damage. All vessels were docked at its terminals excepted for one. The Rickmars Seoul marine vessel broke loose when Ike made landfall. Last night, I had heard that nearby tugboat were about to secure it quickly before it would have taken down the 610 bridge.
National Guard rescues Crystal Beach residents. Carl Thompson, 12-year homeowner and former tugboat owner, "There is no more Crystal Beach. We flew over it in the helicopter. It's nothing more than pick-up sticks. Our house is gone."
Downtown Houston closed for cleanup and assessment of storm damage. Only authorized personnel with a critical need to be in the area will be allowed to enter. Unauthorized persons should not attempt to enter downtown.
As of 8 PM CenterPoint Energy had restored power to 112,000 customers, primarily in the western portions of its service territory. Like I said, I am one of the lucky ones. My father is here with me because he still does not have power.
East Houston Medical Center, in Houston's predominately Hispanic East End is will be shut down for two to three months. Patients had been evacuated Friday afternoon because hospital officials knew that nearby Greens Bayou has a history of flooding at the facility in the 13100 block of the East Freeway and the surrounding area. The Houston East End should have been on evacuation list because this area floods when rains hard.
In Galveston County, about 23,000 island residents are thought to have ignored the evacuation call. No fatality estimates have been available. It could take days to search flooded homes to assess the full impact of the storm.
Homes and a warehouse in Galveston burned unattended during the height of Ike's fury; 17 of them collapsed because crews couldn't get to them. There was no water or electricity on the island, and the main hospital, the University of Texas Medical Branch, flew critically ill patients to other medical center.
In Southwest Louisiana, Ike's surge of water penetrated some 30 miles inland, flooding thousands of homes, breaching levees and soaking areas still recovering from Hurricane Gustav.
In Houston, power has been restored to a major water pumping station. Mayor Bill White assures us that tap water could be clean enough to drink as early as noon Monday.
First Galveston casualty – a woman with a bad heart died when a generator powering her oxygen equipment failed.
Rescue teams with city of Galveston said they have helped 200 people in the last few days escape their flooded homes.
Sunday – 9/14/08: City is now under mandatory curfew – lockdown – from 9:00PM to 6:00PM from now through Sunday. We are today for our safety since people are leaving their houses. However, here is the deal, if you don't have a battery operated radio or televisions, you only can listen to it until your battery gives out. So, how in the hell do you expect 1.99 million households without power to get that information. It amazes me how indignant our media and city officials are getting when they see people out and about.
This is a photo of my apartment complex, even there, there is partial restoration of power.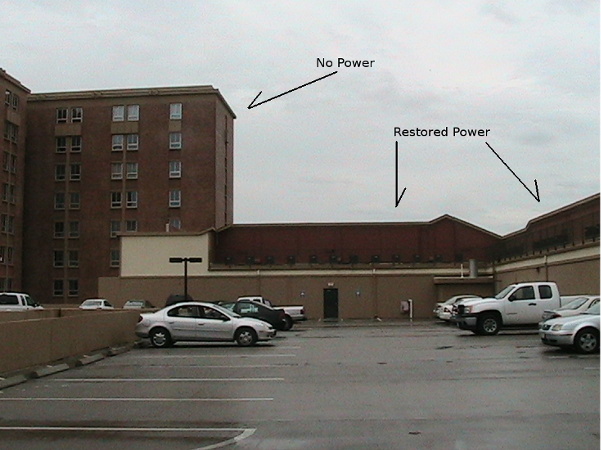 I just came back from my local grocery store, you can tell people are desperate for certain items. The biggest demand is for ice and water. Ice to get keep their meats from spoiling. Much needed water and charcoal so people can cook out. When I left the store, a line began to form outside, the store began to allow only a few people at the time.
If you know anybody from the Southeast side of Houston can you tell me what the situation is like over there. Certain grocery stores are opening and I would like to know what is going on.
When I was coming back, I got the chance to drive around, it is was strange. There are trees everywhere – in the middle of the road, on power lines, on top of houses. It was awful. Carports are toppled, several buildings look like mini bombs went off. At a local park, trees everywhere where snapped like toothpicks.
From Brazoria County into Louisiana, 5 million people are without power, I thank God I am one of the lucky ones who got it. If you have power, please conserve your power because there are stories of people with power sharing it with their neighbors.
People who have power are reading this blog, please, please, stay off the highway you are doing more harm than good. I understand you want to look, I do too, but doing that, we are hindering truck drivers who are bringing in the supplies into Houston and Galveston.
Galveston, TX – Most structures and homes on the island have been damaged by the storm, but are still standing. Most of the island was covered by floodwaters. Citizens are asked to remain where they are until the City can restore power, water, and gas. Galveston police and the National Guard are patrolling streets to offer aid and protect property. Cell phone service should be restored sometime today.
So far, 8 deaths have been blamed on Hurricane Ike, according to the Associated Press. 5 were in Texas, 2 in Louisiana and 1 in Arkansas.
U.S. Rep. John Culberson, a Republican from Houston, blasted FEMA because first responders at two staging areas did not have food and water.
"It's just outrageous," Culberson said, calling on residents near those sites to share food and water with the emergency crews. "I think it's inexcusable. … I was horrified to discover that our first responders needed our help."