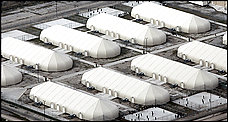 A South Texas grand jury has indicted Vice President Dick Cheney and former Attorney General Alberto Gonzales on state charges related to the alleged abuse of prisoners at the Willacy County Detention Center in Raymondville, TX. Other people who were indicted were, Cameron County's Justice of the Peace Judge Gustavo Garza; former US Attorney for the Southern District of Texas Mervyn Mosbacker; Willacy County District Attorney Juan Angel Guerra; State Senator Eddie Lucio Jr; Willacy County Clerk Gilbert Lozano, District Judges Janet Leal and Migdalia Lopez and special prosecutor Gustavo Garza. They all face a stream of criminal charges including abuse of office and profiting from office. (h/t to Kuff of Off the Kuff)
The indictment names Cheney and Gonzales as "co-actors" engaged in organized criminal activity. It criticizes Cheney's "85 billion" dollar investment in the Vanguard Group, which holds interests in the "top three [private prison] companies" running the federal detention centers. The indictment also accuses Cheney of a conflict of interest and "at least misdemeanor assaults" on detainees through his "tremendous amount of influence" on the agency, the US Immigration and Customs Enforcement (ICE), that provides contracts to these private prison companies. From the indictment: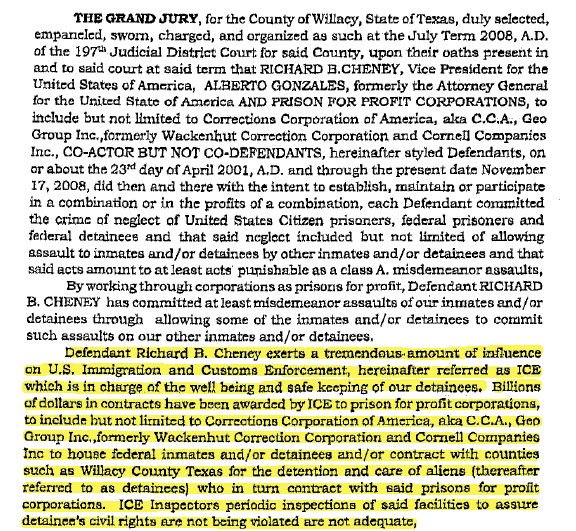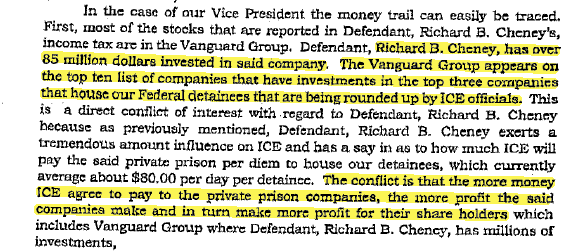 The three-page indictment also alleges that former US Attorney General Alberto Gonzales "used his position…to stop the investigations as to the wrong doings."
My local news stated that nothing will come out of this indictment because Cheney is immune from criminal prosecution, however, this is not true. According to the Memorandum for the United States Concerning the Vice President's Claim of Constitutional Immunity, filed Oct. 5, 1973 by the Attorney General's Office, a Vice President could be subject to indictment and criminal prosecution. This was in response to Vice President Spiro Agnew's argument that both he and the President were immune from criminal prosecution. Hopefully justice will finally be dealt.
The most damning is three-count murder charge against The GEO Group for allowing "one or more inmates to physically assault" Gregorio de la Rosa Jr to death with padlocks stuffed into socks. He was incarcerated at the GEO Group-operated facility when he was brutally murdered by two other prisoners on April 26, 2001; he was four days away from completing a six-month sentence for a drug-related offense.
It is really disheartening that State Sen. Eddie Lucio Jr. was included in this indictment. One would have never suspected he would have ties to the private-prison industrial complex since he is one of the biggest advocates against the border wall. In a statement, Michael Cowen, Lucio's attorney, accuses District Attorney Juan Angel Guerra of settling political scores after losing in Democratic primary in March. State Senator Lucio plans to file a motion to quash the indictment this week.
This indictment is part of an ongoing investigation into a 2005 bribery scandal of three Willacy County Commissioners for the involvement in the construction of Willacy County's Tent City. Although no corporation has been identified by investigators as the source of the bribes, Guerra had his theories.
The companies that were awarded the multi-million contract for the construction of the Willacy County's Tent City in Raymondville, TX, included Utah-based private prison operator, Management and Training Corporation (MTC) (MTC), jail consultant Corplan Corrections of Argyle, TX, design-builder Hale Mills Construction of Houston, and Aguirre Corp. of Dallas.
The indictments charges the Senator for accepting honoraria ($115,000) from three former clients involved in the contract – Management & Training, CorPlan, and Aguirre – while in office. According to records filed with the Texas Ethics Commission, Lucio reported that he was paid as a "consultant" by MTC and CorPlan through his Brownsville company, Rio Shelters Inc. In 2005, State Senator Lucio suspended his consulting work with the three companies in the aftermath of the bribery scandal.
While he denies he did nothing wrong, in 2006, the Texas Observer reported that he put in a good word for those companies to the county commissioners. "I thought it was going to be another company that was being considered," Lucio said, "that was when I told [Guerra] that I felt MTC [Management & Training Corp.] would do a good job."
I have mixed feels about Senator Lucio. Technically, he really didn't do anything wrong. Texas has a strange way of running our state legislature; they meet only every other year for 140 days. It most likely was an off year when Lucio met with the county commissioners. Technically, he was acting in the capacity of businessman and not as a state senator.
This is one of the pitfalls of our state government. While our State Senators or Representatives try their damnedest to come across not as a state official in business matters, this is easier said than done, especially when dealing with other government officials. At what point does his role as State Senator end and conducting business as a civilian begin? It is not surprising there are many flies tangled up in this web. Lucio is just a political pawn for the tycoons who have invested in the private prison industry.
It is really sad this serious issue is being down played as a joke. Regardless what people think of the District Attorney's everyday antics, this should not take way the legitimacy of the case, especially the death of Gregorio de la Rosa Jr and the seriousness of the prison industrial complex.
Private prisons are changing the face of American incarceration. Prison profiteers tend to exploit the economic situation an impoverished county is in. One of the most widely-shared assumptions about prisons in the United States is that they provide an economic boost to the communities in which they are located. This is why local public officials adopt a "yes, in my backyard" approach to prison; banking on the hopes it will provide additional jobs in their communities. The only problem: the economic development argument turns out to be wrong. The true victims are the county residents and the undocumented immigrants who are housed in Tent City.
Texas' experience with the privatization of prisons, jails, and detention facilities has been far from an unqualified success. Voluminous evidence suggests that private prisons correlate with decreased security, inadequate staff training and equipment, inadequate protection of prisoners' human rights, degrading prison conditions, and poor employment standards. It is my hope that Senator Lucio will learn from this and will be a strong advocate against privatized prisons like he is for the border wall.
Immigration reform should not lie in an uncompromising policy of deterrence based on detention as a form of collective punishment but on treating those who arrive unlawfully with compassion and justice. Nor does it lie in a draconian system, which is costly and difficult to enforce, but more importantly perpetuates the inhumane elements of a flawed system that has undermined the integrity of this country.
UPDATE: AP is now reporting that Cheney's indictment in South Texas moves forward.
A Texas judge has set an arraignment for Vice President Dick Cheney, former Attorney General Alberto Gonzales and other officials accused of involvement in prisoner abuse.

Presiding Judge Manuel Banales (buh-NAHL'-ehs) said Wednesday he will allow them to waive arraignment or have attorneys present rather than appear in person Friday.
One motion said Guerra had hijacked "the grand jury process and disregarded the requirements of the Code of Criminal Procedure designed to protect defendants' due process rights."
Some attorneys argued that Banales may not have the authority to schedule an arraignment because the indictments were invalid. One lawyer said Guerra never should have been allowed to present the cases to the grand jury because at least four of the indictments deal with people who had some role in the investigation of his office last year.
Stay tune folks it is going to be a bumpy ride.