Back in December, I publicly addressed my concerns about being overcharged from Amigo Energy. Never in my wildest dreams did I think my little post would get so many hits in such a short time. To date the post has been visited 546 times from 195 network locations; one of those visitors is the folks from Amigo Energy. So, here is my shout out, welcome to blog.
As I mention, they really don't have any teeth to do anything about except just investigate. I will admit, they did contact me, but fear not my fellow readers, they did not threaten to cut me off, and I didn't give them a chance. And I am glad I did, considering what I just found out.
I am pretty sure they are not happy I have chosen this avenue rather than going through the Public Utility Commission (PUC). You see, if you did an internet search on "Amigo Energy" on any of the top three internet search engines – Google, Yahoo! and Windows Live (formally known as MSN) – well, my post can be found on the first page of Google's and Windows Live's search results. As for Yahoo!, it flips between the first and second page.
Why does this matter? It's all about reputation and they know it. The internet has given a powerful voice to consumers and bloggers. As a blogger, if done correctly, we can play an important role in shaping public perception about certain issues. However, this type of activism is still in its infancy, but we are growing by leaps and bounds. But not all sounding boards are the created equal. Not everybody blogs, that is why you have companies like City Search and Ripoff Report that offer the public the ability to voice their opinion in other ways.
While this is a a powerful way get due diligence, i.e., Dell's flaming laptop batteries, we do have to remember what Uncle Ben used to say, "With great power comes great responsibility." There is no denying, there are some people who do abuse the system, such as providing bogus reviews and unethical negative marketing. In my opinion, these people do serve a purpose, they keep us ground, reminding us the importance of holding ourselves accountable for our actions, making sure we have exhausted all resources before we hit that "publish" button.
They should as serve as reminder that just because a company is posted on the internet does not mean they are "bad." Regardless of the report, as consumers we should continuing investigating and obtaining more information from a number of sources so we are able to make a more educated decision. But there are some who don't see it that way and try to find ways to squelch negative reviews.
Anyway, back to Amigo Energy. When I wrote about Amigo, it was because I received a bill for $255 for using 1529 kWh. The reason I thought something was a bit off, when I received a bill the year before, I was only charged for using 567 kWh.
I had a couple of commenter who felt I and anybody who complained should just STFU and pay the bill. Well they can suck it.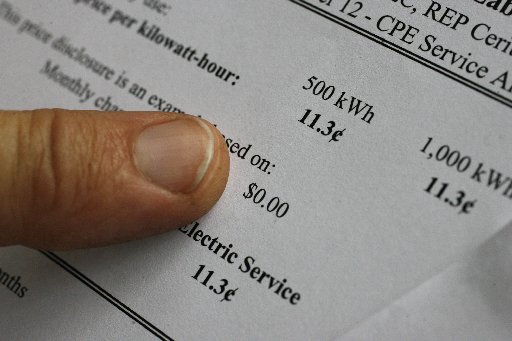 According to my December bill, I was being billed for a 36 day service period, starting from October 31, 2008 to December 05, 2008. The meter started at 32553 and ended at 34082. When I received my January bill, there was some meter funny business. I was being billed for 69 Days, once the billing period beginning on October 31, 2008, with the same meter reading, beginning at 32553 and ending 34082. Instead of being charged for using 1529 kWh, this time around they did a little Enron math.
I guess they admitted there was made a mistake. According to my January bill, I should have been charged for only using 560 kWh and NOT the 1529kWh in December. Therefore I received a credit and wasn't required to pay the $83.92 for only using 519 kWh. I was also given credit for the remaining 450 kWh, which is to be used for my Feb bill.
Break down of my bill:
– 10/31/2008 – 12/5/2008 – Energy Usage (36 days) 560 kWh – rate @ 0.1617 = $90.55
– 12/5/2008 – 1/7/2009 – Energy Usage (34 days) 519 kWh – rate @ 0.1617 = $83.92
Just when you think they redeemed themselves, they try to pull another fast one. I am not complaining about my bill. This time around, I owe $6.08. Who would complain about owning six dollars compared what other people have to pay, such this person who being charged $2,112.86 for 38 days. The problem I have with this bill, there is some funny Enron math.
Remember the meter was clocked at 34082 on 12/5/2008 and 1/7/2009 according to Dec's and Jan's bill. Oddly enough, my meter was magically set back 450 kWh. The current bill states: the billing period began with 33632 on 1/7/2009 and ended with 34051 on 2/4/2009. You would think with the technological advances we have made this company would be able to perform a simple subtraction equation. So where did the remaining 31 kWh go? Isn't there a fine for tampering with meter readings?
Oh what a tangled web we weave, when first we practice to deceive!
Break down of my bill:
– 12/5/2008 – 1/7/2009 – Energy Usage (29 days) 419 kWh – rate @ 0.1617 = $67.75
– $6.95 – Fixed Monthly Charge
– $3.24 – Advanced Meter Chg
I did a little investigating to see what those two charges are; and this is what I found out. There is $6.95 fixed monthly charge if I use less than 500 kWh per billing period. Huh?!? Let me get this straight. So if you want to be conscience about your energy by doing all the right things, but if you use less than 500 kWh per month, you get hit with a fee. Go figure, they get you coming and going. The other charge is part of CenterPoint Energy's Advanced Metering System (AMS) initial deployment plan, which WE, not them, will be paying.
Amigo's legal trouble
I was going to let this go, but something just kept nagging at me. So I decided to look into Amigo Energy. I went straight to the PUC's Retail Electric Provider Report, it turns out that Amigo Energy is no longer Latino owned; it is owned by Fulcrum Power. According to Amigo's website, "in 2007, Amigo became a wholly owned subsidiary of Fulcrum Power Services."
I never heard of this company, but I have notice that somebody from Fulcrum has decided to check out my blog. So who is Fulcrum Power?
Fulcrum Power Services is a energy management company that provides services to power generation facilities and to retail electricity providers.
Naturally, I fired up Google to make sure they are not some fly by night company, suddenly I came across article on Ft. Worth Star Telegram. Last week, Dave Lieber reported that Javier Vega, the former CEO and founder of Amigo Energy, filed a wrongful-termination lawsuit against Amigo's current owner, Fulcrum Power, in Harris County district court in November. I guess they the damage control people at Fulcrum Power were wondering if I had come across these article, since the Star Telegram was the only media source reporting it. This would be the only explanation why their sudden appearance on my blog after the story ran. Thanks for the indirect hat tip, guys.
It looks like every problem Amigo's consumer experienced occurred after Fulcrum took over. According to Ft. Worth Star Telegram :
It says, "[Vega's lawsuit] involves the greed and corruption of certain individuals and legal entities that led to blatant and knowingly illegal efforts to collect improper rates from Texas retail electricity consumers."
…
The first year went smoothly, the lawsuit says. But last June, [Gerardo "G.P."] Manalac, Fulcrum's co-founder, took day-to-day operations away from Vega, who kept the CEO title in name only.

Manalac, though, did not buy electricity at lower prices for future use to hedge against price jumps, the lawsuit contends, something that Vega handled when he ran the company. Vega claims that he repeatedly warned Manalac to stop selling fixed-rate contracts to customers because the company hadn't bought enough electricity at lower prices to make a profit. If prices jumped, he warned, the company could find itself in severe trouble.

Prices did jump, and the company lost $15 million by "gross mismanagement in a mere five months" last year, Vega contends in the suit.

To make up for the loss, the suit says, the company turned to "aggressive price increase methods" aimed at former customers of National Power, which closed in May. Amigo bought National Power's variable-rate customers, who suddenly found themselves paying higher prices with a new provider.
Since this is considered public record, I was able to get my hands on Mr. Vega's lawsuit. The suit says that to make up for their lost profits, Manalac had increased their rates and would retroactively bill their customers. In other words, if the rates were increased for the month you were using power, instead of the new rates being reflect on next month's bill, Manalac ordered Amigo to apply them retroactively on the current bill due that month. For example, my contract ended in July, which means the power I used during the month of July, the rate, 0.1290 per kWh, I signed up in August of 2007 should have been reflected on my August bill, since all bill reflect the power used during the pervious months. However, that didn't happen, I was charged the new rate, 0.1697 kWh when I resigned with Amigo.
The suit also contends that Fulcrum cut Amigo's customer service staff, leaving angry customers with phone waits "in excess of one hour for tens of thousands of Amigo Energy customers." There was also a backlog of 10,000 unanswered customer e-mails.
In one the comments I left, I mentioned how Javier Vega had told the Houston Chronicle that the only complaints he got what that "Amigo is a lousy company," which made me wonder if ever he set foot in the customer service department or there was a gatekeeper that was censoring what type of complaints he saw. Well, looks like it was the latter. The suit mentions that Mr. Vega was kept out of the loop when Manalac sent out an email instructing Amigo personnel, "when talking to customers 'Allow them no negotiation the first or second round.'"
Mr. Vega, I owe you an apology. It is obvious Manalac and Fulcrum Power made sure you were going to be their scapegoat. However, I am disappointed that you and your father chose to sell you business to them in the first place. But that is water under the bridge now.
I am seriously consider writing the Houston Dynamo to back out on their four-year sponsorship deal with Amigo Energy/Fulcrum Power. As mentioned, the only way to hit them where it hurts is their pocket book. The fact is Amigo Energy is just a shell of the company I originally signed up with. As you know, there are not too many Latino owned retail electric providers in the US. In Texas, there are none. I was happy to help support a Latino own business. But the real reason, I signed up with your company, Mr. Vega, I read and heard that you gave back to the Latino community, in fact, I even heard Amigo Energy were payment Nazi's like it now.
I hope you and your father go back to the drawing board and do it again. Your business model worked and as you stated in your lawsuit, prior to Fulcrum Power taking over. I hope do consider starting up another retail electric provider business. I would be the first one to sign up again.